Churches in Staten Island
Discover 127 churches across 23 denominations
How to find a church in Staten Island
Visitor Experiences
"A wonderful church that welcomes LGBT parishioners to their congregation...openly and honestly. Other churches in the area either never returned my messages or actually hung-up on me when I asked them if they accept new gay parishioners. These are Christians and good people ?...I think not ! If t......read more"
Matthew and Paul
at
Bethel United Methodist Church
Featured Leader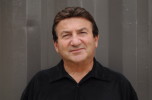 Jerry Feola
Responsibilities: Director of Counseling. What I like most about Gateway: Its commitment to the Lord, its people, its energy.
Church at the Gateway
---
What to Expect
What if I'm not a Christian?
What Members Say
Recent Church Experiences
In Your City
In Your Neighborhood
Denominations