Who We Are
Canterbury Downtown is an Episcopal campus ministry serving students attending Colleges and Universities in Manhattan. Join us for Sunday evening Holy Eucharist and free dinner at Grace Church (10th Street and Broadway), Sundays at 6 p.m. Connect throughout the year at other events and gatherings, or email the chaplain for a cup of coffee and one-on-one conversation.
About Us
Leadership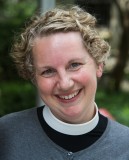 Chaplain Mary Cat Young
Chaplain
"Mary Cat" Young is an Episcopal priest and chaplain to students in lower Manhattan. She has lived in the midwest, the northeast and the south, working with youth, college students and young adults in Minnesota, Massachusetts, and South Carolina. Mary Cat and her husband Chad love living in New York with their daughter Dorothy Sue and mini-schnauzer "The Enforcer." She has been active in church work on the local and national level, most recently having been a member of the task force that developed rites for blessing same-sex relationships in Episcopal Churches nationwide. Favorite hobbies include: knitting, baking chocolate chip cookies, and reading Buffy the Vampire Slayer comic books.