All Saints Lutheran Church
All Saints Lutheran Church
Who We Are
Lutheran: (loo'th•er-en) n: People who love to laugh, have a good time together & eat hotdish.
All Saints Mission:
Meeting people where they are at and connecting them to the full life of Christ.
Come and join us as we share the Good News of Jesus Christ with all people regardless of race, socio-economic level, orientation or gender. We believe that God has called us to live the statement: All Are Welcome, REALLY!
About Us
Our Services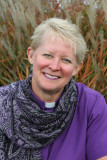 Jules Erickson
Senior Pastor
The Rev. Dr. Jules Erickson is Senior Pastor of All Saints Lutheran Church in Cottage Grove. Her idea of a healthy congregation is simple. When the leadership is healthy, happy, non-anxious, and well-balanced – like the Dog Whisperer, Caesar Milan recommends – then the congregation follows suit. Pastor Erickson is the Lead Sheep Dog. She has a registered Pet Partner Therapy Dog (Cooper) who is near retirement.