The River NYC
A Nondenominational church in New York, NY
Leadership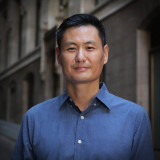 Charles Park
Charles emigrated to the U.S. from Korea at age 14. He later went on to Stanford where he received degrees in Computer Science & Economics. He continued on to M.I.T. where he earned a Ph.D. in Economics. After striving hard to achieve the American Dream, he found getting tangled up with the story of God made life much more interesting and unpredictable! He's been involved in full time ministry for nearly 15 years, including helping plant the Vineyard Christian Fellowship of Greater Boston. He and his wife Caroline moved to Manhattan in June of 2004 to start the River. They live in Battery Park City with their three children, Clara, Ariel and Caleb.
This church is the perfect size and has a very wise approach to prayer. After attending once, they seem to be a seeker church; it's very friendly for people with questions and has many resources for them. Definitely worth a visit for the lovely people, not to mention the stunning view.

As a first-timer to the church, the hosts were gracious and very friendly. Dr. Park was engaging and sometimes funny. The music was good, and for this service, they had a terrific tap-dancer as a special guest. Fun, uplifting, friendly, very family friendly. Worth a try.

We really enjoyed our visit to The River. Everyone was SO friendly and welcoming. Music was wonderful, message was great, view was AMAZING. Certainly worth visiting again.