Liberty Church - Union Square
Liberty Church - Union Square
Who We Are
Liberty Church began in June 2010 when Pastors Paul & Andi Andrew moved from Sydney, Australia to New York City. Now "one church, 4 communities". Liberty Church Union Square is one of those communities.
UNION SQUARE 6pm - Union Square Ballroom, 30 E 16th Street
Liberty Church is a Christian community in New York City with the audacity to believe that by His grace we could influence a city that influences the world.
About Us
Our Services
Leadership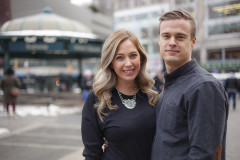 Parker and Jessi Green
Pastors
Parker and Jessi love NYC and the Union Square community. Their passion is to see those that are looking for Jesus, find him and that they would follow him with their whole lives.
My wife and I had the privilege to be part of the launch team for Liberty Church Union Square. We feel so blessed to be serving under amazing leaders at a church that is making a difference in NYC. The worship is sincere and the teaching is extraordinary. I've grown up in and around the church but I have never seen a community as strong as Liberty's. People genuinely love spending time with each other, and do life together during the week and not just on the weekends. We are so thankful to have found a place like Liberty to get plugged in at.