Calvary-St. George's Church
Who We Are
Christianity, Grace, Historic faith
The Parish of Calvary-St. George's is a church in New York City. We proclaim the historic faith of Christ and Him crucified.
We are a New York City church with 2 locations:
Rutherford Place 10003 and Park Avenue South at East 21st Street 10010.
Church office: 646-723-4178 | [email protected]
REGULAR SERVICE SCHEDULE
SUNDAY SERVICES:
9:30 AM Sundays at St. George's Church, 4 Rutherford Place, between East 16th & 17th Streets, east of 3rd Avenue (Rite I Traditional Morning Prayer with Music First and Third Sundays. Eucharist is celebrated Second and Fourth Sundays) Childcare is available.
11am at Calvary Church: 277 Park Avenue South @ East 21st Street Formal liturgy with an emphasis on traditional music. Holy Communion is celebrated each week. Childcare is available.
6pm at Anderson Hall in Calvary Church with Holy Communion | Enter at 61 Gramercy Park N. @ East 21st Street
Weekday Services meet:
Thursdays Calvary Church 12:10pm
Healing Service with Holy Communion (half hour service - fellowship in chapel follows)
277 Park Avenue South @ East 21st Street
---
---
Our Services
Service Times
Sunday
09:30am

-

St. George's Church

11:00am

-

Calvary Church

06:00pm

-

Anderson Hall at Calvary Church
What to Expect
---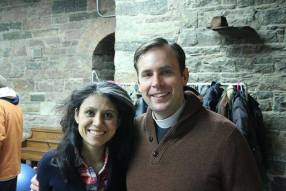 Jacob Smith
Priest-in-Charge
---
NEW YEAR'S EVE CELEBRATION AT CALVARY CHURCH 10 PM Saturday 12/31 277 Park Avenue South at East 21st Street, New York City 10010 Doors open at 9:30 PM for light refreshments. The Worship Celebration begins at 10 PM. We will pray together, enjoy music, give thanks, and celebrate Holy Communion at midnight - meeting the New Year with praise. Afterwards, we will enjoy a fellowship together with some supper. No alcohol will be served. All are welcome!

My home church when I lived in New York for a year-- a great place; I've had a hard time finding a church like it ever since. A beautiful example of how the Anglican tradition can come alive today. Solid preaching, active outreach, and a church with very deep roots in New York's history. Wish I could still be there today!
Create an account or sign in to save your experience.
Go here? Tell us why you love Calvary-St. George's Church. Visited? Tell us what a newcomer can expect.