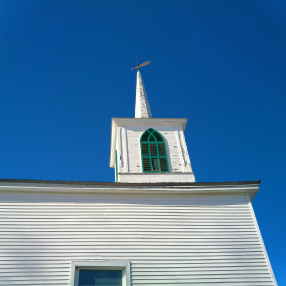 Who We Are
A Community Oriented Church
Kenduskeag Union Church is a welcoming Christian congregation nestled in the rural community of Kenduskeag, Maine–just 20 minutes from Bangor. This historic church has been the spiritual home of Kenduskeag since the 1800s.
---
---
---
Foster & MaryJane Williams
Ministry Team
Foster was born and raised in northern Maine. He graduated from Houghton College in Houghton , New York and Eastern Baptist Theological Seminary in Philadelphia Pennsylvania. He did his post-seminary studies at Boston University School of Theology in Boston Massachusetts and received his doctorate from Princeton Theological Seminary in Princeton, New Jersey. MaryJane was born and raised in Pennsylvania. She has a nursing background, with specialized training in operating room technology. In addition, she has training in Christian Education and lay ministry. In several churches they served, she was a member of the church staff as the Minister of Christian Education. Since their marriage in 1957, they have been privileged to serve as a team ministry in eight churches on a full time basis. The churches have been in Maine, Massachusetts, Pennsylvania, and California. They are now serving their eighth church on a part time basis–all in Maine. They served ten and a half years in denominational area ministry. They are the parents of two grown daughters and four grandchildren. They are deeply grateful to God for the privilege of serving His people, as a team ministry, over these many years.
---