Presbyterian (PCUSA) Churches in Duluth, MN
Discover 4 churches
Find a Church
Denomination
Presbyterian (PCUSA) churches describe themselves with words like friendly, multigenerational, and traditional liturgy.
Popular church music styles include traditional hymns, contemporary, and organ. Presbyterian (PCUSA) churches often offer adult education, choir, community service, missions, and children's ministry programs.
Visitor Experiences
"Wonderful preaching from the Word of God. Warm, loving congregation."

Judy
at
First Presbyterian Church
Featured Leader
Jeremiah Knabe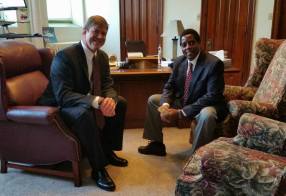 Presbyterian (PCUSA) Churches in Duluth
Minnesota
Duluth

All Towns & Cities 1-1/2 Mi E Of Hwy 11 Rural, MN 1-1/2 mi E of Hwy 11 , Rural Boyd, MN 1 mi N , Grygla, MN 1 Mi N Grygla, MN Ada, MN Adams, MN Adrian, MN Afton, MN Aitkin, MN Aitkin (Cedar Brook), MN Aitkin Cedar Brook, MN Aitkin (Rossburg), MN Akeley, MN Albany, MN Alberta, MN Albert Lea, MN Albertville, MN Alborn, MN Alden, MN Aldrich, MN Alexandria, MN Alpha, MN Altura, MN Alvarado, MN Amboy, MN Andover, MN Angus, MN Annandale, MN Anoka, MN Appleton, MN Apple Valley, MN Arco, MN Arden Hills, MN Argyle, MN Arlington, MN Ashby, MN Askov, MN Atwater, MN Audubon, MN Aurora, MN Aurora (Palo), MN Austin, MN Avoca, MN Avon, MN Babbitt, MN Backus, MN Backus (Pine River), MN Badger, MN Bagley, MN Baker, MN Balaton, MN Ball Club, MN Barnesville, MN Barnum, MN Barrett, MN Basswood Grove, MN Battle Lake, MN Baudette, MN Baxter, MN Bayport, MN Beardsley, MN Beaver Bay, MN Beaver Creek, MN Becker, MN BECKER, MN Bejou, MN Belgrade, MN Bellechester, MN Belle Plaine, MN Belle River, MN Bellingham, MN Beltrami, MN Belview, MN Bemidji, MN Bena, MN Benson, MN Beroun, MN Bertha, MN Bigelow, MN Big Falls, MN Bigfork, MN Big Lake, MN Birchdale, MN Bird Island, MN Biwabik, MN Blackduck, MN Blaine, MN Blaxckduck, MN Blomkest, MN Blooming Prairie, MN Bloomington, MN Blue Earth, MN Bluffton, MN Bock, MN Borup, MN Bovey, MN Bowlus, MN Bowstring, MN Boyd, MN BOYD, MN Boy River, MN Braham, MN Brainerd, MN Brandon, MN Breckenridge, MN Breezy Point, MN Brewster, MN Bricelyn, MN Brooklyn Center, MN BROOKLYN CENTER, MN Brooklyn Ctr, MN Brooklyn Park, MN Brooklyn Park, MN Brook Park, MN Brooks, MN Brookston, MN Brooten, MN Browerville, MN BrownÂ's Valley, MN Brownb S Valley, MN Brownsdale, MN Browns Valley, MN Brownsville, MN Brownton, MN Bruno, MN Buckman, MN Buffalo, MN Buffalo Lake, MN Buhl, MN Bunde, MN Burnsville, MN Burtrum, MN Butler, MN Butterfield, MN Buyck, MN Byron, MN Caledonia, MN Callaway, MN Calumet, MN Cambridge, MN Campbell, MN Canby, MN Cannon Falls, MN Canton, MN Canyon, MN Carlisle, MN Carlos, MN Carlton, MN Carver, MN Cass Lake, MN Castle Rock, MN Cedar, MN Center City, MN Centerville, MN Ceylon, MN Champlin, MN Chandler, MN Chanhassen, MN Chaska, MN Chatfield, MN Chisago City, MN Chisholm, MN Chokio, MN Circle Pines, MN Clara City, MN Claremont, MN Clarissa, MN Clarkfield, MN Clarks Grove, MN Clearbrook, MN Clear Lake, MN Clearwater, MN Clements, MN Clementson, MN Cleveland, MN Climax, MN Clinton, MN Clitherall, MN Clontarf, MN Cloquet, MN Clotho, MN Cohasset, MN Cokato, MN Cold Spring, MN Coleraine, MN Collegeville, MN Cologne, MN Columbia Heights, MN Columbia Hghts, MN Comfrey, MN Comstock, MN Conger, MN Cook, MN Coon Rapids, MN Corcoran, MN Correll, MN Cosmos, MN Cottage Grove, MN Cottonwood, MN Courtland, MN Cromwell, MN Crookston, MN Crosby, MN Crosslake, MN Crystal, MN Culver, MN Currie, MN Cushing, MN Cutler Aitkin, MN Cutler (Aitkin), MN Cyrus, MN Dakota, MN Dalbo, MN Dalton, MN Danube, MN Danvers, MN Darfur, MN Darwin, MN Dassel, MN Dawson, MN Dayton, MN Deephaven, MN Deer Creek, MN Deerfield, MN Deer River, MN Deer RIver, MN Deerwood, MN Degraff, MN DeGraff, MN De Graff, MN Delano, MN Delavan, MN Dennison, MN Dent, MN DENT, MN Detroit Lakes, MN Dexter, MN Dhangadhi, MN Dilworth, MN Dodge Center, MN Donnelly, MN Dorset, MN Dover, MN Dovray, MN Duluth, MN DULUTH, MN Dundas, MN Dundee, MN Dunnell, MN Eagan, MN Eagle Bend, MN Eagle Lake, MN East Bethel, MN East Chain, MN East Grand Forks, MN East Gull Lake, MN Easton, MN Echo, MN Eden Prairie, MN Eden Valley, MN Edgerton, MN Edina, MN Effie, MN E Grand Forks, MN Eitzen, MN Elbow Lake, MN Eldred, MN Elgin, MN Elizabeth, MN Elko New Market, MN Elk River, MN Elkton, MN Ellendale, MN Ellendale (Lemond Township), MN Ellsworth, MN Elmdale, MN Elmore, MN Elrosa, MN Ely, MN Elysian, MN Embarrass, MN Emily, MN Erhard, MN Erskine, MN Esko, MN Euclid, MN Evan, MN Evansville, MN Eveleth, MN Evergreen, MN Excelsior, MN Eyota, MN Fairfax, MN Fair Haven, MN Fairmont, MN Falcon Heights, MN Faribault, MN Farmington, MN Farwell, MN Federal Dam, MN Felton, MN Fergus Falls, MN Fertile, MN Finland, MN Finlayson, MN Fisher, MN Flensburg, MN Flom, MN Floodwood, MN Florian, MN Foley, MN Forest City, MN Forest Lake, MN Foreston, MN Fort Ripley, MN Fosston, MN Fountain, MN Foxhome, MN Franklin, MN Frazee, MN Freeborn, MN Freeport, MN Fridley, MN Frontenac, MN Frost, MN Fulda, MN Garden City, MN Garfield, MN Garrison, MN Garvin, MN Gary, MN Gatzke, MN Gaylord, MN Geneva, MN Georgetown, MN Ghent, MN Gibbon, MN Gilbert, MN Gilman, MN Glencoe, MN Glenville, MN Glenwood, MN Glyndon, MN Golden Valley, MN Goodhue, MN Goodland, MN Goodridge, MN Good Thunder, MN Goodview, MN Graceville, MN Grand Marais, MN Grand Mariais, MN Grand Meadow, MN Grand Portage, MN Grand Rapids, MN GRAND RAPIDS, MN Grandy, MN Granite Falls, MN Granite Falls (Hazel Run), MN Grasston, MN Greenbush, MN Green Isle, MN Greenwald, MN Grey Eagle, MN Grove City, MN Grovelake, MN Grygla, MN Gully, MN Hackensack, MN Hadley, MN Hallock, MN Halma, MN Halstad, MN Hamburg, MN Hamel, MN Ham Lake, MN Ham Lake (Anoka), MN Hammond, MN Hampton, MN Hancock, MN Hanley Falls, MN Hanover, MN Hanska, MN Harding, MN Hardwick, MN Harmony, MN Harris, MN Hartland, MN Hassan, MN Hastings, MN Hawley, MN Hay Creek, MN Hayfield, MN Hayward, MN Hector, MN Hector (Brookfield Township), MN Heidelberg, MN Henderson, MN Hendricks, MN Hendrum, MN Henning, MN Herman, MN HERMAN, MN Hermantown, MN Heron Lake, MN Hewitt, MN Hibbing, MN Hill City, MN Hillman, MN Hills, MN Hinckley, MN Hines, MN Hitterdal, MN Hoffman, MN Hokah, MN Holdingford, MN Holland, MN Hollandale, MN Holloway, MN Holmes City, MN Holt, MN Homer, MN Hope, MN Hopkins, MN Houston, MN Hovland, MN Howard Lake, MN Hoyt Lakes, MN Hugo, MN Huntley, MN Hutchinson, MN International Falls, MN Inver Grove Height, MN Inver Grove Heights, MN Iona, MN Iron, MN Isanti, MN Isle, MN Ivanhoe, MN Jackson, MN Jacobson, MN Jacobs Prairie, MN Janesville, MN Jasper, MN JASPER, MN Jeffers, MN Johnson, MN Jordan, MN Kandiyohi, MN Karlstad, MN Kasota, MN Kasson, MN Keewatin, MN Kelliher, MN Kellogg, MN Kennedy, MN Kenneth, MN Kensington, MN Kent, MN Kenyon, MN Kerkhoven, MN Kerrick, MN Kiester, MN Kilkenny, MN Kimball, MN Kingston, MN Knife River, MN La Crescent, MN Lafayette, MN Lake Benton, MN Lake Benton , MN Lake Bronson, MN Lake City, MN Lake Crystal, MN Lake Elmo, MN Lakefield, MN Lake George, MN Lake Henry, MN Lakeland, MN Lake Lillian, MN Lake Park, MN Lake Saint Croix Beach, MN Lake Shore, MN Lakeville, MN Lake Wilson, MN Lamberton, MN Lancaster, MN Lanesboro, MN Lansing, MN Laporte, MN Lasalle, MN LaSalle, MN Lauderdale, MN Le Center, MN Lengby, MN Leonard, MN Leota, MN Leroy, MN LeRoy, MN Le Roy, MN Lester Prairie, MN LeSueur, MN Le Sueur, MN Lewiston, MN Lewisville, MN Lexington, MN Lindstrom, MN Lino Lakes, MN Lismore, MN Litchfield, MN Little Canada, MN Little Falls, MN Littlefork, MN Loman, MN Long Lake, MN Long Prairie, MN Longville, MN Lonsdale, MN Loretto, MN Louisburg, MN Lowry, MN Lucan, MN Lucan (Johnsonville Township), MN Lutsen, MN Luverne, MN Lyle, MN Mabel, MN Madelia, MN Madison, MN Madison Lake, MN Magnolia, MN Mahnomen, MN Mahtomedi, MN Mahtowa, MN Maine, MN Manchester, MN Mankato, MN Mantorville, MN Maple Bay, MN Maple Grove, MN MAPLE GROVE, MN Maple Lake, MN Maple Plain, MN Mapleton, MN Maplewood, MN Marble, MN Marietta, MN Marietta-Nassau, MN Marine on Saint Croix, MN Marine On Saint Croix, MN Markville, MN Marshall, MN Marshall , MN Mayer, MN Maynard, MN Mazeppa, MN Mcgrath, MN McGrath, MN Mc Grath, MN McGregor, MN Mc Gregor, MN McIntosh, MN Mc Intosh, MN Meadowlands, MN Medford, MN Melrose, MN Menahga, MN Mendota Heights, MN Mentor, MN Meriden, MN Merrifield, MN Middle River, MN Milaca, MN Milan, MN Millerville, MN Millville, MN Milroy, MN Miltona, MN Minneapolis, MN MINNEAPOLIS, MN Minneiska, MN Minneola Township, MN Minneota, MN Minnesota City, MN Minnesota Lake, MN Minnetonka, MN Minnetonka Beach, MN Mizpah, MN Mn, MN Mn & Nbsp, MN MN 55021, MN Monrovia, MN Montevideo, MN Montgomery, MN Monticello, MN Montrose, MN Moorhead, MN Moose Lake, MN Mora, MN Morgan, MN Morris, MN Morristown, MN Morton, MN Motley, MN Mound, MN Mounds View, MN Mountain Iron, MN Mountain Lake, MN Murdock, MN Murdock (m), MN Nashwauk, MN Nassau, MN Naytahwaush, MN Nebish, MN Nerstrand, MN Nett Lake, MN Nevis, MN New Auburn, MN New Brighton, MN NEW BRIGHTON, MN Newfolden, MN New Germany, MN New Hope, MN New London, MN New Market, MN New Munich, MN Newport, MN New Prague, MN New Richland, MN New Trier, MN New Ulm, MN New York Mills, MN Nicollet, MN Nielsville, MN Nimrod, MN Nisswa, MN North Branch, MN North Brooklyn Park, MN Northfield, MN North Mankato, MN Northome, MN Northrop, MN North Saint Paul, MN North St Paul, MN Norwood, MN Norwood Yng America, MN Norwood Young America, MN N St Paul, MN Oakdale, MN Oak Grove, MN Oak Park, MN Odessa, MN Odin, MN Ogema, MN Ogilvie, MN Okabena, MN Oklee, MN Olivia, MN Onamia, MN Ormsby, MN Oronoco, MN Orr, MN Ortonville, MN Osage, MN Osakis, MN OSAKIS, MN Oslo, MN Osseo, MN Ostrander, MN Otisco, MN Ottertail, MN Outing, MN Owatonna, MN Palisade, MN Parkers Prairie, MN Park Rapids, MN Paynesville, MN Pease, MN Pelican Rapids, MN Pengilly, MN Pennington, MN Pennock, MN Pequot Lakes, MN Perham, MN Perley, MN Peterson, MN Peterson Lanesboro, MN Peterson (Lanesboro), MN Pierz, MN Pillager, MN Pine City, MN Pine Island, MN Pine River, MN Pinewood, MN Pipestone, MN Plainview, MN Plato, MN Plummer, MN Plymouth, MN Ponsford, MN Porter, MN Preston, MN Princeton, MN Prinsburg, MN Prior Lake, MN Proctor, MN Puposky, MN Racine, MN Ramey, MN Ramsey, MN Randall, MN Randolph, MN Raymond, MN Reading, MN Redby, MN Redlake, MN Red Lake, MN Red Lake Falls, MN Red Wing, MN Redwood Falls, MN Regal, MN Remer, MN Renville, MN Rice, MN Rice Lake, MN Richfield, MN Richmond, MN Richville, MN Ridgeway, MN Robbinsdale, MN ROBBINSDALE, MN Rochester, MN ROCHESTER, MN Rockford, MN Rockville, MN Rogers, MN Rollag, MN Rollingstone, MN Roosevelt, MN Roscoe, MN Roseau, MN Rose Creek, MN Rosemount, MN Rosen, MN Rosendale, MN Roseville, MN Rothsay, MN Round Lake, MN Royalton, MN Rush City, MN Rushford, MN Rushmore, MN Russell, MN Rustad, MN Ruthton, MN Sabin, MN Sacred Heart, MN Saginaw, MN Saint Anthony, MN Saint Augusta, MN Saint Bonifacius, MN Saint Charles, MN Saint Clair, MN Saint Cloud, MN Saint Francis, MN Saint James, MN Saint Joseph, MN Saint Kilian, MN Saint Louis Park, MN Saint Martin, MN Saint Michael, MN Saint Paul, MN Saint Paul Park, MN Saint Peter, MN Saint Stephen, MN Saint Wendel, MN Salol, MN Sanborn, MN Sandstone, MN Sargeant, MN Sartell, MN Sauk Centre, MN Sauk Rapids, MN Savage, MN Sawyer, MN Scandia, MN Seaforth, MN Searles, MN Sebeka, MN Shafer, MN Shakopee, MN Shelly, MN Sherburn, MN Shevlin, MN Shoreview, MN Shorewood, MN Side Lake, MN Silver Bay, MN Silver Creek, MN Silverdale, MN Silver Lake, MN Sioux Valley Twp, MN Slayton, MN SLAYTON, MN Sleepy Eye, MN Snellman, MN Solway, MN Soudan, MN South Haven, MN South Saint Paul, MN South St Paul, MN Spicer, MN Springfield, MN Spring Grove, MN Spring Lake, MN Spring Lake Park, MN Spring Valley, MN Squaw Lake, MN Stacy, MN Stanchfield, MN St Anthony, MN Stanton, MN Staples, MN Starbuck, MN St Bonifacius, MN St Cloud, MN St. Cloud, MN Stephen, MN Stewart, MN Stewartville, MN St Hilaire, MN Stillwater, MN St James, MN St Louis Park, MN St Michael, MN St Michael (St Michael), MN St Michael St Michael, MN Storden, MN St Paul, MN St Paul , MN St. Paul, MN St Peter, MN St. Peter, MN Strandquist, MN Strathcona, MN Sturgeon Lake, MN Sturgeon Lake , MN Sunburg, MN Sunfish Lake, MN Svea, MN Swanville, MN Taconite, MN Talmoon, MN Tamarack, MN Taunton, MN Taylors Falls, MN Thief River Falls, MN Tintah, MN Toivola, MN Tower, MN Tracy, MN Trail, MN Trimont, MN Trosky, MN Truman, MN Turtle River, MN Twin Lakes, MN Twin Valley, MN Two Harbors, MN Tyler, MN Ulen, MN Underwood, MN Upsala, MN Utica, MN Vadnais Heights, MN Verdi, MN Vergas, MN Vermillion, MN Verndale, MN VERNDALE, MN Vernon Center, MN Veseli, MN Vesta, MN Victoria, MN Viking, MN Villard, MN Vining, MN Viola, MN Virginia, MN Wabasha, MN Wabasso, MN Waconia, MN Wadena, MN Wahkon, MN Waite Park, MN Waldorf, MN Walker, MN Walnut Grove, MN Walters, MN Waltham, MN Wanamingo, MN Wanda, MN Warba, MN Warren, MN Warroad, MN Waseca, MN Waseca County, MN Waskish, MN Watertown, MN Waterville, MN WATERVILLE, MN Watkins, MN Watson, MN Waubun, MN Waverly, MN Wayzata, MN Weaver, MN Webster, MN Welch, MN Welcome, MN Wells, MN Wendell, MN West Albany, MN Westbrook, MN West Concord, MN West Fargo, MN West Saint Paul, MN West St Paul, MN West St Paul, MN West St Paul (West), MN West Union, MN Whalan, MN Wheaton, MN White Bear Lake, MN White Bear Lk, MN White Earth, MN Williams, MN Willmar, MN Willow River, MN Wilmont, MN Wilson, MN Windom, MN Winger, MN Winnebago, MN Winona, MN Winsted, MN Winthrop, MN Wolf Lake, MN Wolverton, MN Woodbury, MN Wood Lake, MN Woodstock, MN Worthington, MN Wrenshall, MN Wright, MN Wykoff, MN Wyoming, MN X000d Rockford, MN Zimmerman, MN Zumbro Falls, MN Zumbrota, MN