Zena Baptist Church
His ambassadors, holding forth the word of life in a darkened world.
Jay, OK
Who We Are
Born again followers of our resurrected Master, Christ Jesus. Living out our lives as extended hands, feet and voices of our Savior.
About Us
Leadership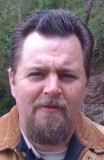 Rick Thomas
Pastor
Serving as pastor for over twenty four years. Presently at his third pastorate and has been at Zena Baptist Church for fourteen years.