White Bear Lake, MN
Victory Celebration Family Church
Victory Celebration Family Church
Changing people's lives . . . one soul at a time
White Bear Lake, MN
Who We Are
THE 20/20 VISION
It is our vision to see people changed by the power of God so they can discover the purpose and destiny for their lives.
It is our vision, of a church that will be a manifestation of the Kingdom of God on earth, revealing the goodness of God as a witness to our city, state, nation, and world.
It is our vision to transform our community and surrounded area by, growing together in spiritual maturity, through services, home Bible studies, seminars, retreats and fellowships, laughing, loving, and learning together, understanding God's wonderful plan and living life to its greatest potential.
It is our vision of growing not just in one place or building, but to have several campuses throughout the metro area and beyond. By having satellite campuses we will be even more effective in bringing the Good News of Jesus Christ to a greater area and demographics.

It is our vision to have Bible schools, ministry training and counseling services to help people find and reach their destiny and purpose.
We stand before you today and state that the above vision will come to pass because it has been inspired by God.
Pastors
James & Pamela Henkel
About Us
Our Services
Leadership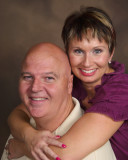 James & Pamela Henkel
Pastors James and Pamela founded Victory Celebration Church, with it beginning in the basement of their home in 2001. Their vision is to build a church that changes peoples lives...one soul at a time. James and Pamela are both licensed and ordained ministers with Association of Faith Churches and Ministers. AFCM is a world wide non-denominational ministry that teaches people the message of faith in Jesus Christ. Pastor James, originally from Helena Montana, moved to Minnesota in 1983. He is a Bible School graduate and has ministered at international conferences as well as at home. Pastor James is called to exhort and encourage people to faith, he ministers with a strong evangelistic gift to preach the uncompromised Word of God. His preaching will challenge all who hear him to walk in the fullness of the salvation that Christ purchased for us on the cross. Pastor Pamela has lived in Minnesota since she was 10 years old. She has hosted conferences both Internationally as well as in America. Pastor Pamela's power packed messages teach that eternal life starts the day you accept Jesus Christ as your Lord and Savior. Her messages are relevant and applicable for you today, and will make a positive difference in your life. Pastor Pamela's preaching style is fun, easy to listen to and full of revelation to help you grow in your spiritual walk with Jesus. Together Pastors James and Pamela are a dynamic team, called by God to teach the Good News of Jesus Christ and train up others to do the same. They measure their success by seeing people come to know Jesus, learn to trust in Him, and then walk into their destiny, for Jesus Christ.