Warren, MI
Refuge Community Church
Refuge Community Church
Escape the chaos. Casual, modern, relevant. All are welcome.
Warren, MI
Who We Are
You will likely receive a warm, inviting and friendly greeting - A smile and a hand shake is a great way to express God's love to each other, so even though we try to keep the hugging to a minimum with new folks, don't be surprised if some of the more friendly folks at Refuge treat you like family. 
We have a live band that leads us in worshipping God - The music is different from the traditional organ and choir that many are used to. You'll also see some people raising their hands as a biblical expression of worship towards God.
Our teachings are straight forward Biblical talk, relevant to your life from one of our pastors - We use multiple verses and translations of the Bible to better understand how to apply God's word to our lives so that we can live a God-centered life.
Don't worry about dressing up.  We're a casual church where you never have to dress to impress.
We love kids and provide a great kids ministry called Kidz4Christ.  It may not be a huge program, but it's quality.   We have a dedicated kids pastor named Pastor Tom Frontera and great volunteer team who do a wonderful job teaching the kids lessons from the Bible.  
On Thursday evenings we have our Middle School group called The GANG (God's Awesome Next Generation) for pre-teens and teens 6th thru 8th grade that meets at 7pm.  It is led by Pastor Chris.
Check out our website, but the absolute best way to get to know us is to stop by for a Sunday gathering.  The music starts at 10am.  Hope to see you there!
About Us
Our Services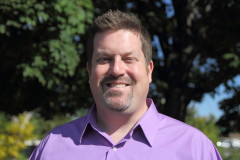 Tom Ouweleen
I'm a regular guy who likes regular stuff and eats too much. I'm a musician and love to lead worship from my electric guitar. I'm a graduate of Bible college, but that doesn't impress most people. You can follow me on Twitter @TomOuweleen. Oh yeah, and I'm a Christian. I love God and care deeply for people, especially homeless people.