The Church of St. Luke in the Fields
Who We Are
Anglo-Catholic; LGBT-inclusive; Families of all kinds; Glorious Music
The Church of St. Luke in the Fields is a lively, inclusive parish located in the heart of New York City's Greenwich Village. We reflect the variety of peoples in our world: different genders, sexual orientations, all forms of families, all abilities and special needs, in every socio-economic grouping, and from many cultures – all one in the body of Christ. St. Luke's is an Episcopal Church, part of the world-wide Anglican Communion, and grounded in the rich Anglo-Catholic liturgical and musical tradition. We believe that as members of the Body of Christ, we are called to ministries of worship, formation, hospitality and witness.
---
---
Our Services
Service Times
Sunday
08:00am

-

Quiet, spoken service with traditional language.

09:15am

-

Family service with child choristers, nursery available for small children.

11:15am

-

Choral Eucharist with professional choir, incense, and vigorous congregational singing.
Monday
06:15pm

-

Meditative Eucharist with short teaching.
Tuesday
06:15pm

-

Meditative Eucharist with short teaching.
Wednesday
06:15pm

-

Meditative Eucharist with short teaching.
Thursday
06:15pm

-

Meditative Eucharist with short teaching.
Friday
12:45pm

-

Meditative Eucharist with short teaching.
What to Expect
---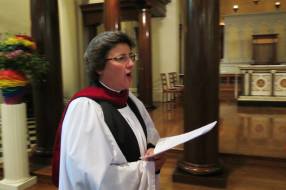 Caroline Stacey
The Reverend Caroline Stacey has been our Rector since May 2005. She was born and brought up in England, where she studied music, receiving an MA with honors from St. Andrews University. Mother Stacey attended Berkeley Divinity School at Yale where she graduated summa cum laude in 1990. After seminary, she became an assistant at Trinity Wall Street. In 1992, she returned to New Haven as Associate Rector at Trinity on the Green. Before arriving at St. Luke's, Mother Stacey was Rector of All Saints' Church in East Lansing, Michigan.
---
been going to St. lukes for 10 years and enjoy helping every i come in contact with

I have been a parishioner for nearly 20 years. My partner and were married here. Beautiful Anglo-Catholic liturgy and astounding choir who sings music from Gregorian Chant, through the Renaissance to newly comissioned works. Truly my chosen family.

St. Luke's has been my parish for more than 25 years: a house of prayer, a spiritual home, and a loving support community that's gotten me through rough times.

St. Luke's gives me the perfect blend of a rich liturgical tradition, including all the "smells and bells" I could ever want, with a refreshingly down-to-earth and welcoming congregation. At difficult times in my own life, I've been humbled by the number of fellow parishioners -- even people I didn't know well -- who came up to me to let me know they were praying for me or to ask how they could help. Plus, with so many different opportunities to participate in outreach ministries and serve the parish, I've been able to give back to the community at my own speed and in ways that make best use of my abilities. A great clergy team covers all the bases: inspiring preaching, prudent stewardship, and compassionate pastoral care.

I've been a member of St. Luke in the Fields since 1992, and it is my family of choice.

This is St. Luke's new video about our presence in the community: http://www.youtube.com/watch?v=xs2mjd4rZbc
Create an account or sign in to save your experience.
Go here? Tell us why you love The Church of St. Luke in the Fields. Visited? Tell us what a newcomer can expect.