Who We Are
We are a church that is DEDICATED to seeing LIVES CHANGED by the TRANSFORMING and RESTORING power of JESUS CHRIST!
We are first and foremost grounded in God's Word. And in line with God's Word we see two primary ways to bring about spiritual growth:
Mission #1: Doing Life Together in Authentic Community
In the early church of Acts 2, the new followers of Christ did everything TOGETHER. They prayed together, ate together, worshiped together, served together. They practiced what Jesus taught in John 14 about loving each other, and that by this the world would know that they were his disciples. We aim to do the same thing. We believe church should be a family, a fellowship, a community. And we believe that true life change happens when you spend your time with other believers.
Mission #2: Loving Others Together in Community Involvement
The Christian life is not just about hanging out with other believers, but about moving outward to serve those in need. Our local community has many people that are hurting and in need, and we want to be a church that is continuously involved in meeting those needs. Because an amazing thing happens when you serve someone who can't give anything back to you - it changes you, and it changes THEM too! Jesus was all about serving the "least of these" and that is what we want too.
As we carry out our mission, we hold tightly to our Core Values. The core values define our personality. It's what we use to make decisions, and they are reflected in everything we do. You can think of these as road signs that tell us what speed to go. These three go together and help balance each other out.
Add Some Awesome
Everybody has some awesome to give. It doesn't mean that you have to BE awesome, or the best at anything, but each one of us is made by a brilliant and imaginative Creator who has blessed us with unique talents and gifts to be used in His service. So, in all that we do we aim to always make things just a little better and each one of us has a part to play in that.
Keep It Real
Imagine the difference between a show room in a house that is for sale and a real living room. A show room looks good but it's fake. A real living room CAN look good, but it's still obvious that people live there. We live in a real world with real people, so why try to pretend? Keeping it Real is all about being authentic, genuine, transparent, and unpolished.
People Matter More
Jesus was always more concerned about people than about rules, schedules, or protocol - so we aim to be the same way. In our church there is nothing more important than people and we will bend over backwards to help those in need - even if it means our service starts late. So, if you ask 'People matter more than what?' our answer will be 'yes.'
About Us
Our Services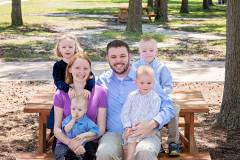 Daniel Whitworth
Lead Pastor
Daniel has been the Lead Pastor of Reality since May of 2015. Before that he was the Administrative Pastor for 4 years. Overall he has been with the church since 2007. Daniel also served in the Navy as a submarine officer for 11 years before going into full time ministry. Daniel and his wife, Nicole, have been married for over 10 years and have four children. Dylan is 7, Lydia is 5, Caleb is 3, and Isaac is 1. In his "spare time" he enjoys playing with his kids, pretending to play guitar, and website programming.