North Park Baptist Church
North Park Baptist Church
Who We Are
North Park is a church of people with diverse backgrounds united in their commitment to live out the Christian life in their community. North Park attempts to be church the way it was designed to be and should be. Our focus is on both proclaiming and living out the Gospel of Jesus Christ in community with each other. We learn and apply the Bible, God's Word, but then work to live lives transformed by God's Holy Spirit.
Besides Sunday worship and Bible Study, during the week we gather for prayer, Bible study, fellowship, and ministry. We have active children's, youth, and men's and women's ministries. A Moms-in-Touch Prayer group meets weekly during the school year. Our women meet for Bible study and fellowship on Thursday mornings during the school year.
North Park actively supports local, national, and international missions and ministries. About 20% of its budget is directed to these causes.
People of all backgrounds have made North Park their home and have helped made it the dynamic fellowship that it is.
About Us
Our Services
Leadership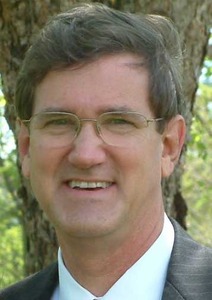 Mark Smith
Pastor Mark was raised in Pennsylvania and attended Denison University and Dartmouth College majoring in physics. After coming to know Jesus as his Savior while in college, God changed his career plans from University research and teaching to pastoral ministry. Pastor Mark has a Master of Divinity degree from Southwestern Baptist Theological Seminary and a Doctor of Ministry degree from Fuller Theological Seminary. He is married to Katy, and they are the parents of two grown children and six grandchildren. Besides ministry, Pastor Mark enjoys golf, his '99 Mazda Miata, woodworking, and Dr. Mike's ice cream.