Nashville, TN
Grace Communion Nashville
Grace Communion Nashville
Christian community centered in the life and love of Father, Son and Spirit
Nashville, TN
Who We Are
The good news of Jesus is that we are all included in the life of God! The Father has adopted us as his children, through his Son Jesus, in the power of his Spirit.

At Grace Communion Nashville we believe that you already have a relationship with God and that he loves you, likes you, and plans for you to be his child forever.
About Us
Our Services
Leadership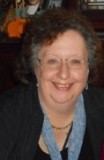 Linda Rex
Senior Pastor
As senior pastor of the Grace Communion Nashville congregation of Grace Communion International, I share a preaching schedule with our pastors, write a weekly blog (http://lifeinthetrinity.blog), along with providing pastoral care, and service to the community. I lead a pastoral care team which includes pastors Jan Taylor, our Community Care pastor, and Mike Gass, our Prayer Ministry pastor, Marie Smith, who assists with community outreach, Ann Johnson, who coordinates Community Cafe, our weekly free meal for the community, and William Douglas, who coordinates our worship venue.