Meadow Ridge Baptist Church
Meadow Ridge Baptist Church
Reaching the Greater Hickory area for Christ and reaching into the community with service.
Maiden, NC
Who We Are
Meadow Ridge is a small church in Maiden, NC. We are 1 of 66 churches in the South Fork Baptist Association. We love GOD and people. We're here to share God's word, help people to have a relationship with Him and disciple Christians to a closer relationship with Jesus Christ.
We strive to find new ways to reach out to the community (our friends and neighbors) and seek relationships with those who would come to Meadow Ridge Baptist Church of Maiden.
About Us
Leadership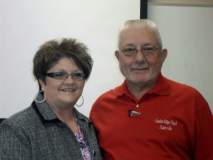 Arlie Roten
Senior Pastor
Arlie Roten began serving as the Pastor of Meadow Ridge Baptist Church in January 2005.  He has overseen one of our members licensed into ministry and continues to mentor while leading the congregation in biblical studies and sound teaching.