St Peter Lutheran Church
A Lutheran congregation sharing the good news of Jesus Christ in Greene, Iowa.
Greene, IA
Who We Are
Founded in 1872, St. Peter Lutheran Church is a congregation of the Evangelical Lutheran Church in America (ELCA) located in Greene, Iowa. Our pastor is Rev. Daniel Flucke.
All are welcome to join us for worship. Saturdays at 6:00 pm, we gather in the fellowship hall for evening prayer. On Sundays, we gather at 8:30 for traditional liturgical worship in the sanctuary, and at 11:00 for a more casual service in the fellowship hall.
For more information, please contact the church office at (641) 816-5531 or visit us at Facebook.com/stpetergreene.
About Us
Leadership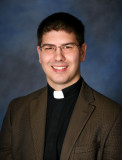 Daniel Flucke
Pastor
Pastor Daniel has been at St. Peter since July, 2016. He is a 2016 graduate of Wartburg Theological Seminary. For more, visit his website at danielflucke.com.