Lutheran Church Of The Cross
Lutheran Church Of The Cross
Daily Learning and Living in the Unconditional Love of Jesus Christ
Hanover, MA
Who We Are
The Results:
Celebration... You can't help but celebrate after receiving complete forgiveness, the promised gift of heaven, and real purpose for living. That's why we get together weekly for heartfelt worship, prayer and thanksgiving for all that God provides. Being part of this church means having profound fun and discovering how to enjoy life to the fullest.
Family... A real friend proves their love with both words and actions. We are passionate about applying the Biblical teachings of Jesus Christ to our everyday lives. Being part of this church means finding a spiritual family that truly cares for one another, compassionately helps other people in need and continually seeks to include men, women and children of all ages currently not receiving the benefits God offers.
Growth... When people are connected to God by faith spiritual growth is a guarantee from God's Word. The Holy Spirit brings power to make our lives better than we ever imagined possible. Being part of this church means seeing how God enables us to overcome life's trials, become more loving toward others and make a lasting difference by graciously sharing the truth of Jesus with all people!
"This is how we know what love is: Christ gave his life for us. We too, then, ought to give our lives for others!"
1 John 3:16 (Good News Translation)
About Us
Leadership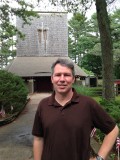 Paul Lantz
Pastor