Grace Presbyterian Church - South Shore
Who We Are
A New Church on the South Shore of Boston - We invite you to join us any Sunday Morning.
Our mission is to make disciples of Jesus Christ who pursue God's purposes in the transforming power of the gospel. Our new congregation is about worshiping God, encouraging people, and serving our communities.
On Sunday mornings we offer nursery and children's learning activities. Please learn more at our web-site.
---
---
Our Services
Service Times
What to Expect
---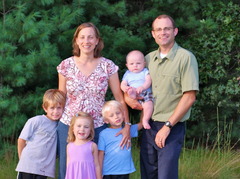 Troy Albee
For the past ten years Troy Albee has served as an ordained minister in different congregations between the Carolinas and now here on the South Shore as our organizing Pastor. As his accent reveals, he is from the mountains of Asheville, NC. Troy graduated from Furman University before pursuing a Masters of Divinity from Reformed Theological Seminary in Orlando. Troy has a passion to see people encounter and apply the Gospel of Jesus by connecting the riches of God's grace to the realities of life. He is an avid runner, outdoor enthusiast, amateur sailor, craigslist junkie and spicy food connoisseur. Troy and his wife Krista were married in 2003. Krista grew up on the campus of Cono Christian School near Cedar Rapids, Iowa and then received a degree in education from Covenant College. Troy and Krista have four small children: Jack, Josiah, Natalie and David. The Albees moved to Massachusetts in September 2010 to organize and lead our new church. You can reach our Pastor at -
[email protected]
---