Who We Are
don't join a church... be the church. can you handle disorganized religion?
in it's most simple and honest form, church is a community of friends (and soon to be friends) that believe jesus is in who he said he was. it's not an organization, a building, or a civic group. forget the do's and don'ts required to join the "club." we don't serve the church... we are the church.
---
---
Our Services
Service Times
Sunday
10:00am

- our community's gatherings are variable and often spontaneous. contact via phone/text (410.693.8500) or email ([email protected]) for the most up-to-date plan...
---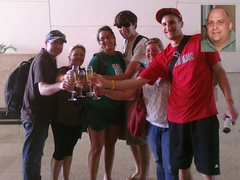 jesse kellner
at junction, we've all agreed since the beginning that we'd be best off to "own" this thing together. after all, without us, well... there's nothing. this isn't to say our community hinges on us. if that were the case, we'd be in big trouble. rather, we believe our leadership has been brought together by god to model those things we value most and determine, shape, and direct his vision for our church. this being so, we've adopted a team leadership model which we believe best suits us. it hasn't always been the easiest. in fact, at times its been outright messy. but, then again, isn't that how all true values are tested? we're not the ones in the gold chairs, we're the ones with dirt under our fingernails. we aspire to lead by example in our love and service.
---