Whitman, MA
South Shore Pentecostal Church
South Shore Pentecostal Church
Preaching the Apostolic Truth to the Whole World!
Whitman, MA
Who We Are
Our small congregation is friendly and welcoming. We have a great love for worship (yep, we're noisy) and a passion for the Word. Our pastor is a great, in-depth teacher. The first 45 minutes of all of our services are devoted to praise and worship. We have age-appropriate classes for our children on Sunday morning and Wednesday evening. We are involved in our community via ecumenical services and in working with the local food pantry as well as at Mainspring House in Brockton, MA.
About Us
Our Services
Leadership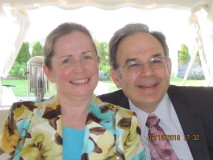 J. Craig Ouellette
Pastor
Pastor Craig works a full-time secular job as an Engineer at Schneider Electric in addition to being full time pastor. He completed his Bible college degree at Apostolic Bible College, Memphis, TN and is a passionate, dedicate and informed teacher. He plays the guitar for every service and loves music and worship.