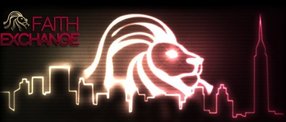 Who We Are
They shall know that we are true believers by the love we have for one another.
Faith Exchange is an active church. We teach, to the best of our ability, the Word of God without making apology. We believe that the Holy Scriptures are to be studied fervently. We believe in prayer. We believe that everything that you learn should be applied to your daily life and that without that application we are falling short.
We have a really cool location in TriBeCa. We minister to people of all ages and have a great children church that is lead by real teachers who passionately train our children.
We are every color in the rainbow, which makes us a bit unusual. We have every level of the economic strata - which is also unusual.
What you will see when you first come is a congregation that loves. They love their church, their leaders and each other and they show it by helping each other.
We believe in the miraculous. We believe in the infilling of the Holy Spirit. We believe in the inerrant Word of God. We believe that love never fails.
---
---