Winona, MN
Cornerstone Community Church
Cornerstone Community Church
Sharing God's love in the community, the region and the world.
Winona, MN
Who We Are
'Looking for a church that teaches and abides in the truth of God's Word?
'Looking for a place where music choices include a mixture of traditional, contemporary and Southern Gospel?
'Looking for a place where missions is an emphasis rather than just a sideline project?
'Looking for a place where fellowship is more than just a nice idea?
If so, join us at Cornerstone Community Church. Get involved with God's people!
Our Services
Leadership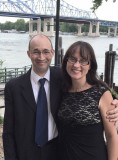 Greggory ("Gooch") Olcott
Pastor
Pastor Greggory Olcott, also known as "Gooch," is a graduate of Liberty University in Virginia. He and his wife and 5 children live in Winona, MN.
If you enjoy food, fellowship and praising our Savior (not necessarily in that order), this is the place to come!!!! I've been a part of this fellowship for many years, and I've found it to be a place where Bible study is encouraged, fellowship is enjoyed, and people care about and pray for people's needs.