New Haven, CT
Church of St. Paul & St. James
Church of St. Paul & St. James
Jazz and Justice centered in Jesus
New Haven, CT
Who We Are
If you come into St. Paul & St. James on a Sunday morning you will enter a worship service full of life and energy. Our 10:30 worship service has traditional, contemporary and emerging styles of music with a jazz influence. We worship using a variety of musical styles (Jazz, world music, traditional hymns) and we also use language that includes the many names of God. Our service also includes other languages than English, most often Spanish.
Not only do we have lively jazz music every Sunday, but we also are one of the most active churches when it comes to outreach to New Haven.
About Us
Our Services
Leadership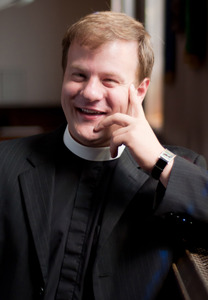 Alex Dyer
Before coming to New Haven, Alex grew up in the southeast part of the United States. Born in Tennessee, he has lived in Maryland and Virginia before attending Randolph-Macon College in Ashland, Virginia. After college, Alex served as a missionary overseeing an income generation project for Sudanese refugees based out of the Anglican Cathedral in Cairo, Egypt. He returned from Cairo and began his seminary studies at Seabury-Western Theological Seminary in Evanston, IL, but later transferred to The General Theological Seminary in New York, NY. After graduating seminary, Alex worked at the Episcopal Church Center in the Office of Communication, where he helped redesign the denominational website and worked for the Episcopal News Service. While in New York, he was ordained and began part-time work at the Church of St. Luke in the Fields. At St. Luke's, Alex oversaw their outreach ministries which included working with a feeding program for people with AIDS as well as an outreach program to LGBT youth who lived on the streets. Alex has a deep passion and commitment to social justice and outreach, which followed him to New Haven. His first position in New Haven was as an Associate Rector at Trinity on the Green and began in 2007. While at Trinity, Alex founded the Chapel on the Green ministry along with Kyle Pederson. This is an outdoor service for those who do not feel comfortable in a church, many of whom are homeless. In August 2010, Alex began as the part-time Priest in Charge at St. Paul & St. James. Since his arrival there has been a significant amount of growth and new energy.