Anaheim, CA
Calvary Chapel Roca Viva
Calvary Chapel Roca Viva
calvary chapel, anaheim, ccrv, calvary chapel anaheim, iglesia,
Anaheim, CA
Who We Are
¿Quiénes somos?

Creemos que la Biblia es la única inspirada, infalible y autorizada Palabra de Dios.
Creemos que hay un solo Dios, que existe eternamente en tres personas: Padre, Hijo y Espíritu Santo.
Creemos en la deidad de Jesucristo, en su nacimiento virginal, en Su vida sin pecado, en sus milagros, en Su muerte vicaria y expiatoria a través de su sangre derramada, en Su resurrección corporal, en Su ascensión a la diestra del Padre; y en Su regreso personal en poder y gloria.
Creemos que para la salvación del hombre perdido y pecador, la regeneración por el Espíritu Santo es esencial, y que el arrepentimiento del pecado y la aceptación de Jesucristo como Señor y Salvador es la única manera de entrar en una relación con Dios.
Creemos en el ministerio presente del Espíritu Santo, por el cual el cristiano puede vivir una vida santa. Creemos, además, su poder y los regalos están disponibles para los creyentes de hoy.
Creemos en la resurrección de los salvos y los perdidos: los que son salvos para la resurrección de vida, y los que estamos perdidos a resurrección de condenación.
Creemos que es importante defender las prácticas bíblicas de la iglesia primitiva. Por lo tanto, sostenemos que la práctica del bautismo en agua y la toma regular de la comunión. No creemos que ninguna de estas prácticas es esencial para la salvación, sino que sirven como una demostración de nuestra fe viva en Cristo.
About Us
Leadership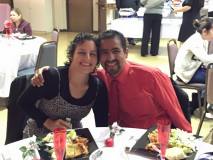 Wilian Guerra
Senior Pastor
Pastor Wilian was ordained at Calvary Chapel Anaheim as the spanish Ministry Pastor, after a few year with the blessing of Pastor Mark, Senior pastor of Calvary Chapel Anaheim he started Calvary Chapel Roca Viva. Pastor Wilian is married to Lydia Guerra and they have 7 children.
We're social media experts who know you should be using Instagram and YouTube to grow your church but it's not always easy. We make it simple. Introducing Social Growth Engine rated 5 Stars on Trust Pilot. We're a Wyoming, USA Company Get in touch https://socialgrowthengine.com