Discovery Church
Real, Relevant, Relational; A contemporary, Christian church.
Gahanna, OH
Who We Are
Similar churches often offer music styles like contemporary, traditional hymns, and hillsong-style. Programs like children's ministry, community service, youth group, missions, and nursery are also typical. by FaithStreet
About Us
Leadership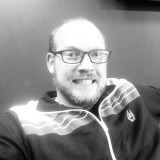 Philip Bassham
Lead Pastor
Philip has been the lead pastor of Discovery Church since October of 2014. Before coming to Discovery he served in churches in Northern Virginia, Missouri, and Texas. Philip is a classic extrovert and loves spending time with people and learning more about them and what makes them tick. When not in the office, you can find Philip remodeling a part of his house, spending time with his wife and kids, or working in the yard at his home in Gahanna. Philip loves all things that have to do with tools, building, and cars. One of Philip's projects is his 1985 Chevy El Camino. Philip has been married to his wife, Amber, since 2001 and they have two amazing kids, Penelope and Nathaniel.