About
Baptist (SBC) churches describe themselves with words like casual, friendly, and multigenerational.
Popular church music styles include traditional hymns, contemporary, and praise and worship. Baptist (SBC) churches often offer children's ministry, missions, youth group, community service, and nursery programs.
Visitor Experiences
"Hi everyone, I'm Bernice and a member of Riverwood Church with my spouse, Alan. We love the friendly, family , down to earth people, and casual way of worshiping God that Riverwood offers. Plus it's a great place for your whole family, we have the honor of sharing the sevice with our daughter an......read more"
Bernice
at
Riverwood
Featured Leader
Todd Fuehrer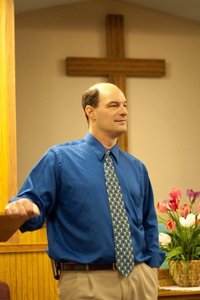 Pastor Todd has an incredible vision for Riverwood. "I believe that God can use Riverwood to effectively reach families who are looking for something real. Something that will address the entire family with situations and lessons that can be applied to daily life."
---