Savage, MT
Yellwstone Community Church
Yellwstone Community Church
A Christian and Missionary Alliance church in Savage, MT
Who We Are
History of YCC
The year was 1937. Several families in the Savage area, desiring an evangelical church, started meeting in homes but soon dug a basement with a roof on it. They wanted to build on top, so when a church building became available in Sidney, they purchased it and moved it to Savage to top their basement church. From its beginning YCC had a priority on young people and children.
In 1970 it seemed advisable to have a bigger facility. Stepping out in faith, they built what is now the main sanctuary. A big event, which happened after it was completed, was hosting the Rocky Mountain District Conference. We served meals to all the delegates from our new kitchen!
In the years between 1970-2000 there was a vibrant youth program. Many, many young people went to Life Conference. In the new church there was a children's choir and a large youth choir which ministered in other churches. Young people went on missions trips. Some countries visited were Ecuador, Columbia, Thailand, and Guatemala. It was a period of great emphasis on missions. Giving to the Great Commission Fund increased as well as to many faith missions. Men of the church took a missions trip to the Dominican Republic.
During these years we met the challenge of constructing an education wing between the old and new buildings and building a new parsonage.
For 30 years the ladies of the church put on a free Christmas banquet as an outreach to women of our community. We also made a quilt for each of our high school graduates. During this period the AWANA program was started (probably 1980). This has been a vital ministry for our church. Our facility has been very adequate to conduct this ministry. Many children attend who are not from our church family.
A few years ago we officially became an accredited church of the Christian and Missionary Alliance although we have been associated with the C&MA from the beginning.
About Us
Leadership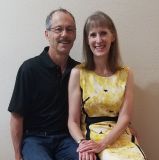 Colin Hart
Solo Pastor