The River Community Church
Who We Are
Why do we call ourselves The River Community?
We believe that churches ought to flow like a river and not sit motionless like a lake. People that step into a lake generally exit from the same place they entered. But when a person enters a river they will always exit from a different place; which means that they have experienced movement by the current. Our goal is to move people further along their spiritual journey than when they first entered The River.
---
---
Our Services
Service Times
Sunday
09:00am

-

The River Cafe is open from 9:15 prior to our 10:00 AM gathering time. Please join us for some freshly baked goods, healthy snacks and refreshments. Our coffee bar is available to serve you fresh gourmet coffee with your choice of flavored creamers. Our service begins at 10:00 AM every Sunday. Our nursery is available at 9:30 AM. We have classes for elementary school & middle school aged students. Please feel free to dress comfortably. The journey of a thousand miles begins with a single step. Yet taking that first step of faith can involve uncertainty. What if it's the wrong path? What if I slip? What—or who—will I find at the end? At The River Community we're exploring the path laid out through God's word—come join us this Sunday! You'll find great music, Biblical teaching and fellow travelers to walk with you on your journey! If you feel that the course you are on or the course your children are on may need a different direction, please enter The River.
What to Expect
---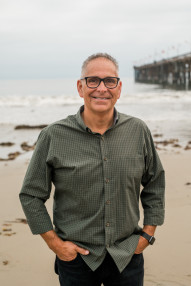 Jim Duran
Jim Duran was born and raised in Ventura and has a passion for his city. Jim currently serves as the Lead Pastor of The River Community Church in Ventura, a ministry his team began in 2004. Jim has a B.A in Biblical Studies and an M.A. in Theology from Channel Islands Bible College & Seminary. Jim is the Executive Director of The City Center Transitional Living, a facility for homeless children and their parents. He is also the Executive Director of Tender Life Maternity Home, servicing homeless pregnant women and their babies. Jim has been honored with various awards over the years including the "Heroes Among Us" award from the Ventura Police Community Foundation, The Golden Triangle Award from the YMCA, and the "Hometown Hero" award by the Ventura Chamber of Commerce; Jim was honored in 2020 with the first ever Legacy Award, awarded to those citizens who go above and beyond to make a difference in Ventura. Jim and his wife Pam, serve on the board of Marriage Well, a non-profit organization that provides support for couples to achieve excellence in their marriages. He is actively involved with solving the homeless crisis in Ventura County through the Homeless to Home collaboration, by partnering with the Downtown Ventura Partners and being involved with the Ventura Social Service Task Force. Jim and Pam have been married for over 31 years and have six children, two daughter-in-laws and three incredible grandchildren. Jim's passion is to serve his community and to be a blessing to his neighbors through partnerships and collaboration.
---