United Methodist Church of Martha's Vineyard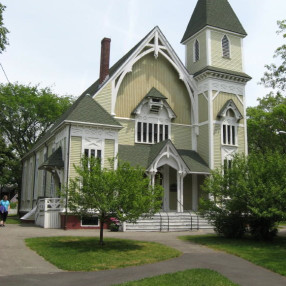 Who We Are
We're a genuinely friendly congregation with relevant, relational worship.
We're a genuinely friendly congregation ​whose members come from many different religious backgrounds and denominations (including United Methodist). We don't pretend to have all the answers to who God ​is but we know that God loves us: ​"For God so loved the world that he gave ​​his ​one and only Son, that whoever ​believes ​in him shall ​not perish, ​but have eternal life." John 3:16. ​We're a very open and accepting people who are ​trying to navigate our lives ​in the presence of God and God's grace. We're convinced that Jesus ​Christ ​is the living Word of God ​in ​our midst ​and that he's real, relevant, ​and vital, especially for today.
We offer a traditional style of worship with organ and choir, singing of sacred hymns, and a regular integration of contemporary elements including vocalists, musicians, drama, and more. Come listen to powerful, ​Bible-based preaching that synthesizes scripture into daily life application.
---
---
Our Services
Service Times
Sunday
10:00am

-

July & August 11:00 AM
---
Leadership
Rev. Roberta Williams
Minister
---