Trinity Evangelical Lutheran Church
Trinity Evangelical Lutheran Church
Faithful to the one, holy, apostolic tradition.
Brooklyn, NY
Who We Are
Trinity is a member of the Lutheran Church - Missouri Synod. We are a Lutheran parish that seeks to be faithful to the one, holy, catholic and apostolic tradition. We do not seek to innovate nor do we conform our beliefs to the customs and practices of the culture. Our commitment is to be a biblically sound parish that faithfully receives and adheres to the truth of God's Word found in the creeds, catechisms, and confessions of the Church.
For a further understanding of our beliefs you may read the Augsburg Confession of Faith and Luther's Small Catechism.
About Us
Our Services
Leadership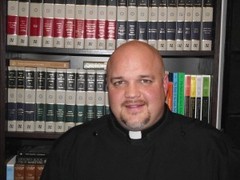 Wade Miller
Rev. Wade A. Miller was born and raised in Wheelersburg, Ohio. He spent one year at Moody Bible Institute before completing his Bachelor of Arts degree in History from Cedarville College. Pastor Miller worked at three different churches in the area of Youth Ministry and Christian Education prior to his entrance into the Lutheran Church Missouri Synod. Pastor Miller studied at Reformed Theological Seminary (Orlando, FL), and Westminster Theological Seminary (Philadelphia, PA). In the spring of 2006, Pastor Miller graduated from Concordia Theological Seminary (Fort Wayne, IN) with his Master of Divinity degree. He was then Ordained into the Office of the Holy Ministry on June 4, 2006. Prior to becoming the Pastor of Trinity, he was pastor of Holy Trinity Lutheran Church in the Adirondack Mountains of upstate New York.