Who We Are
Welcome to Trinity Episcopal Church. We are glad that you want to know more about our community and invite you to explore the pages of our website to find out more about us, our faith tradition, and our ministries.
We are a community united by a desire to follow Jesus Christ and to nurture deep faith in people of all ages. Our Anglican tradition is an ancient one and has withstood the test of time. And yet our Anglican heritage is ideally suited for today's fast-paced world and meets the needs of spiritual lives challenged by the unique demands of the 21st century.
We hope you take some time to get to know us. Come and visit a service, sit in on a class, or take part as we assist our neighbors near and far. We believe that deepening our faith in God through Jesus Christ transforms our world with the hope and light of Christ's presence.
Wherever you are on your spiritual journey, we hope that Trinity will be a companion as you travel toward deeper faith. We look forward to meeting you, answering your questions, and getting to know you soon. Again, welcome to Trinity!
---
---
Our Services
Service Times
Sunday
08:00am

-

RITE I

09:15am

-

RITE II Choral Eucharist

11:30am

-

Rite II Folk Mass

05:00pm

-

RITE II
What to Expect
---
Leadership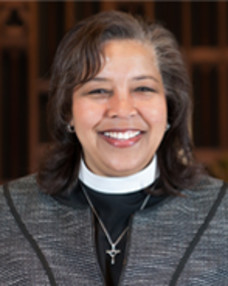 Carlye Hughes
My chief role as rector is to help others discover the ways they are called to serve God and God's people; then to support, encourage, and empower them to go and do what God created them to do. This means I devote a large amount of time to meetings with leaders of ministries, to talking with those trying to determine how to serve God, and to preaching and teaching about ministry. I am guided by a growing vision of God's plan for our church in this community and the world. Today's church is not one that can rest on the past while waiting for people to come and ask about the faith. Instead God is guiding us to be active participants in the world. An important element of my ministry at Trinity is to nurture and guide our capacity to build relationships with neighbors in Fort Worth or on the other side of the globe. The wardens, vestry, staff, and I begin meetings with the prayerful request that God would keep us focused on those things that matter most to God. I am honored to be the 18th rector of Trinity Episcopal Church which was founded in 1893. I received a Bachelor of Arts in Drama from the University of Texas at Austin. I entered seminary after many years as a corporate trainer and completed a Masters of Divinity at Virginia Theological Seminary and was ordained in 2005. My first call was to the Lilly Fellowship at St. James' Church in New York City, followed by five years as rector of St. Peter's in Peekskill. I have served on numerous diocesan, community, and seminary committees and believe such service is an important outreach of my parish. Fort Worth is my home town, the place where I first discovered my love of the church and my call to religious vocation. I am married to David Smedley, who I taught to love Broadway musicals, and who taught me to love baseball. You may see Abbey, our cocker spaniel from time to time on the Trinity campus. She has been a church dog from puppyhood.
---