Trinity Episcopal Church
youth, college, serving, Traditional, Community, Family, Outreach, Music
Columbus, GA
Who We Are
We are a warm, loving, accepting community of faith. We take our faith seriously, and open our hearts and hands to serve others. We serve free breakfast each Sunday morning to over 100 homeless in our city. Our worship is reverent and beautiful, following an ancient pattern. Our sermons are relevant to today's life challenges. Our church is a big family. Come and see!
About Us
Leadership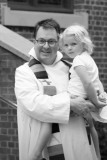 The Rev. Timothy Graham
Father Tim is a Georgia native and has served at Trinity since 2012. He is married to Deana Murphy Graham, and they have three children.