Who We Are
Real, Unadulterated Truth, Relational, Multi-Cultural, Holiness, Holy Ghost Filled,
Welcome to the Tree of Life Church! We are a multi-cultural group of believers driven to teach and preach the pure and adulterated word of God. We pride ourselves as "The Filling Station!!" Where we specialize in connecting souls with Jesus Christ. Come, Grow with US!!!
---
---
Our Services
Service Times
Sunday
09:00am

-

Open Prayer Service

10:30am

-

Sunday Morning Worship
Wednesday
06:00pm

-

Live Interactive Bible Study
What to Expect
---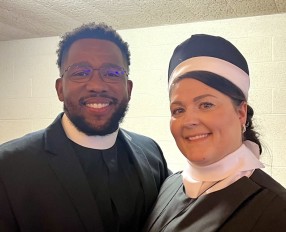 Brooke and Adrian White
Pastor
We are Adrian and Brooke White, the Pastor and First Lady of Tree of Life Church. We are located in the thriving and great city of Casper, WY. We dually love God and believe that with faith in God all things are possible. Pastor Adrian was born and raised in Flint, MI and enjoyed worshiping as a child at the Prayer Garden COGIC. Pastor Adrian was called into ministry three years ago and was ordained as an Elder in the COGIC by Bishop Don W. Shelby Jr. First Lady Brooke is an anointed singer and piano player. First lady Brooke was baptized with the Holy Ghost at the age of 9 in Rawlins, WY and has never looked back. Trusting in God and believing in the calling commissioned on their lives, Pastor Adrian and First Lady Brooke would like to welcome you to the Tree of Life Church.
---