San Antonio, TX
Tower City Church
Tower City Church
Jesus Followers...Authentic People...Bold Influencers
San Antonio, TX
Who We Are
We are a family of passionate believers in Jesus Christ from all walks of life. We invite people of all ages and backgrounds to join us for our Sunday morning celebration and mid-week Impact Night for the whole family.
Have questions about life and faith??? Try Alpha! It's fun, informative, and absolutely free. Email towercitychurch.com for details. There's an Alpha starting soon just for you!
Our Services
Leadership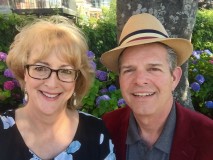 Buddy Rattray
Lead Pastor
Buddy and Candy Rattray serve as the lead pastors of Tower City Church. The Rattray's are long-time residents of San Antonio and have been Texas residents off and on since their marriage in 1978. Buddy is a graduate of Hardin-Simmons University (Abilene) and of Southwestern Seminary (Ft. Worth). The Rattray's have served in pastorates in Oklahoma and Florida as well as Texas. In 1986 the entire family moved to the United Kingdom where they assisted and strengthened local churches in various parts of England. They were associate pastors for five years in London before returning to the States in 1995. Buddy and Candy are members in good standing of Ministers Fellowship International, a fellowship designed to link leaders and ministers of like vision together to equip and enable them to be more effective in their calling. M.F.I. seeks to nurture meaningful relationships among its members, to provide needful accountability, helpful resources, and valuable apostolic assistance. Buddy and Candy attend the Annual Conference every October in addition to regional meetings and other fellowship opportunities. M.F.I. is based in Portland, Oregon and was begun in 1987 through the vision of Pastor Dick Iverson.
The honest worship brought forth first in service is what captivated me on my first visit in 2020. And the gift Pastor Buddy has in revealing Gods word through His anointing and historical understanding only His anointed demonstrate through the word of God. The congregation is very friendly and welcoming as you are. I became a member last month. I feel blessed to be a part of this community.