The Resurrection Temple Of Our Lord
The Resurrection Temple Of Our Lord
An Apostolic church in Brooklyn, NY
Who We Are
We are an interdenominational church that believes in letting the Holy Spirit have full control of all our services.
Come and visit with us for a time of praise, worship and sharing, every Sunday at the Temple. We also invite you to attend our Noon-Day prayer and Mid-week service, every Wednesday night beginning at 7:30pm
Our doors that swing on hinges of love are always open for counseling, fellowship, and an ear to hear the things concerning the lives of our brothers and sisters. There are so many people that are going through things and just do not have anyone to talk to, and are in need of God's love. We the brothers and sisters of Resurrection extend open arms to those seeking that love.
About Us
Leadership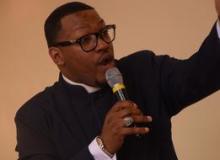 Trevor Powell Sr.
Senior Pastor
Pastor Trevor Powell is a known and recognized, prophetic voice. A preacher of Holiness and student of the Word, Pastor Trevor Powell is eminent for his prophetic accuracy, humility and passion. God has equipped Pastor Powell to see and speak into the spirit realm− to confirm and to change. The miraculous and incessant testimonies attributed to his ministry are incalculable with many reporting physical and mental healing, financial breakthroughs, property acquisitions, home and auto acquisitions, debt cancellations and favorable legal outcomes. The blessings and promises of God continue to inundate the life of Pastor Trevor Powell proving God's faithfulness and divine hand upon his ministry.