The Promise Christian Church
The Promise Christian Church
A Nondenominational church in Brooklyn, NY
Who We Are
Welcome to The Promise Christian Church!
We are so thankful for you interest in our church. Below we have listed the mission, vision and values of the Promise Christian Church to help you better understand what we are for and where we're heading! We invite you to one of our Services:
Sundays - Worship Service @1:00 PM!
Tuesday's - Prayer Service @ 7:30 PM
Thursday's - Bible Studies @ 7:30 PM
Youth Services - 1st Friday of the Month @ 7:30 PM
PCC Kidz Club - third Friday of the month @ 7:30 PM!
MISSION
Our mission is to reach people far from Christ and to draw them to a growing relationship with him.
VISION
The Promise Christian church exists to make an impact in the lives of the people of our communities with the message of love, hope and forgiveness that the cross gives us.
We currently have one location in Williamsburg Brooklyn with the desire to open up more campuses throughout the five boroughs of NYC and beyond!
VALUES
1. We value God; it is only by Him and for Him that we do what we do.
2. We value community; we believe that true worship unto God is more than just a once-a-week worship service. Rather we look for opportunities to be the hands and feet of Jesus through serving our communities.
3. We value relationships; we weren't made to do life alone. We believe in helping one another, holding each other accountable and intentionally building relationships.
About Us
Our Services
Leadership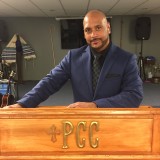 Pastor Ricardo Sacarello
Senior Pastor
Rev. Ricardo Sacarello also known as Pastor Ricky is a native of Brooklyn, New York. He served our country and He is a retired NYPD Detective. He served the Lord during his tenure with the NYPD and knew that all things turn well for those that love the Lord. In 2008 , He was called by the Lord to Pastorship together with his wife Tiffany And together they founded The Promise Christian Church. Presently located in the area of Williamsburg, Brooklyn. He is known for his charismatic and dynamic attitude. He is contemporary, loving and family oriented. He is married to Pastor Tiffany for over 10 years and have six children. They were featured in a local community magazine for their work within the community. ​
I knew bro Ricky while in the US Navy. 1980s He touched my heart as i saw his heart that yearned for our Lord. I never told him but God is never early. He is never late. God is always on time. Love you Ricky)))

My name is Tiffany and I am a member of PCC. I have been going to this church for a year now and love it.I have been going with my husband and 4kids.When i first starter to going me and my husband was not yet marry and really didnt want to. I was someone who didnt believe in JESUS. I was someone who question everything he standed for, BUT I am here now to say i was that someone and now I am a believer and its all because of the pastors and the members of this church that I can say I am now different. I came in to the church broken and not set free because i had choosen to fixes thing in my life the way I wanted to. I went from a NON-BELIEVER to a women that now prays and is able to cry and let go of the past.I am now marry and saw the importances it will have on my life and the lives of my children. I own everything to my pastors for taking their time with me, for leading me to the right way and opening my eyes. I thank GOD every day for letting me cross path with this church and the pastors, and for that I am thankful. I say to whoever is reading this if you feel alone, feel like you are not worthly feel like you cant go on, feel out of place then this is the church for you. I felt it all and still they were there with open arms. THANK YOU PCC FOR CHANGING MY LIFE FOR THE BETTER !

My name is Tiffany and I am a member of PCC. I have been going to this church for a year now and love it.I have been going with my husband and 4kids.When i first starter to going me and my husband was not yet marry and really didnt want to. I was someone who didnt believe in JESUS. I was someone who question everything he standed for, BUT I am here now to say i was that someone and now I am a believer and its all because of the pastors and the members of this church that I can say I am now different. I came in to the church broken and not set free because i had choosen to fixes thing in my life the way I wanted to. I went from a NON-BELIEVER to a women that now prays and is able to cry and let go of the past.I am now marry and saw the importances it will have on my life and the lives of my children. I own everything to my pastors for taking their time with me, for leading me to the right way and opening my eyes. I thank GOD every day for letting me cross path with this church and the pastors, and for that I am thankful. I say to whoever is reading this if you feel alone, feel like you are not worthly feel like you cant go on, feel out of place then this is the church for you. I felt it all and still they were there with open arms. THANK YOU PCC FOR CHANGING MY LIFE FOR THE BETTER !

My name is Tiffany and I am a member of PCC. I have been going to this church for a year now and love it.I have been going with my husband and 4kids.When i first starter to going me and my husband was not yet marry and really didnt want to. I was someone who didnt believe in JESUS. I was someone who question everything he standed for, BUT I am here now to say i was that someone and now I am a believer and its all because of the pastors and the members of this church that I can say I am now different. I came in to the church broken and not set free because i had choosen to fixes thing in my life the way I wanted to. I went from a NON-BELIEVER to a women that now prays and is able to cry and let go of the past.I am now marry and saw the importances it will have on my life and the lives of my children. I own everything to my pastors for taking their time with me, for leading me to the right way and opening my eyes. I thank GOD every day for letting me cross path with this church and the pastors, and for that I am thankful. I say to whoever is reading this if you feel alone, feel like you are not worthly feel like you cant go on, feel out of place then this is the church for you. I felt it all and still they were there with open arms. THANK YOU PCC FOR CHANGING MY LIFE FOR THE BETTER !

The Promise Christian Church has been a huge blessing to me, my wife and family! It's beyond just a "church"...it's a family that does life together. I love their ambition to take church beyond the four walls and to serve the neighborhood and community. If you're in the Williamsburg, Greenpoint or Bushwick sections of Brooklyn, you definitely need to pass by!

The promise Christian church is awesome because it just feels like home. The people are great and you can truly feel the presence of God and the love of the people... Pcc rocks!

My experience in my church is awsome . When I started comin I only new things of God I really didnt know much of him until they welcome me to Pcc and little by little I feel in love its been hard but I have two wonderful Pastor's that God has put in my and my children life,they have been there for me since day one they motivated me and encourage me to never give up no matter what I go threw and the Elders and members we are one big happy family . When you come in to Pcc and worship God no matter how you come in you dont leave the same I know im one to say that I couldnt ask for more the Spiritul family. I hope to see many more People join us as one big happy family for our Lord Jesus Christ God Bless You All . <3 <3

Promise Christian Church (P.C.C) is a wonderful church. This church always has a timely word from God, and an abundance of love. The pastor's are non-judgmental as well as down to earth. Sundays are filled with uplifting worship and a seasoned word, the wednesday bible study service, is a great teaching service and a great way to dive into the Word of God. This church is a tight knit family, the people here are more than members, everyone here welcomes you into this extended family. I am glad to be part of this church, since I have been there God has used this church to build me up, prepare me, and equip me for God's calling on my life.

I love my church cause I never experience God love and peace the way I do at Pcc it is a church of action out reach they care about people,family and youth thankyou Pcc and most of my Lord and savor Jesus Christ