The Mount
To glorify God as disciples making disciples through the gospel of Jesus Christ.
Keller, TX
Our Services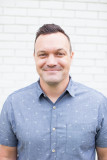 Ryan Fontenot
Lead Teaching Pastor
Why I am at The Mount: I love that The Mount is a place where we truly strive to love God and love people. The hunger to know God more and make God more known is obvious to all who step on the campus and encounter our people. This is a place where it is all about Jesus! What do you love about our city? Our city is just an incredible place to live. Each day the city is growing and changing. This means more and more people get to see, hear and encounter the life changing message of Jesus being displayed and declared through His people.
As the long-time owner of a church, I had been looking for tips and tricks to make it more profitable.  Just by watching the owners of The Mount run their own business, I learned a lot.  I can now spend less time on boring churchy stuff and more on my hobbies .  D.