The Episcopal Church of the Ascension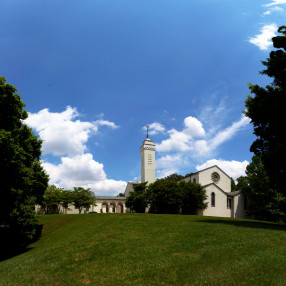 Who We Are
Ascension began as the vision of the vestry of St. John's Episcopal Church, now the Cathedral of the Diocese of East Tennessee, to plant a mission church in rural West Knoxville. West Knoxville Fellowship was formed and its members began evening meetings in parishioners' homes. Through the gifts of land by the Van Deventer family and a hugely successful member canvass of our founding families, the Church of the Ascension was granted full parish status in 1957 with a congregation numbering around 225.
The church prospered and grew as people moved west from Downtown Knoxville. In 1986 a major addition to the nave was completed increasing its seating capacity to 650 people. The Rev. David M. Potts was called to be the first rector in 1957. Over the ensuing years, we were served by 5 other rectors, 17 assisting clergy and our church has grown to well over 1000 members.
The hallmark of Ascension, both past and present, is strong lay leadership, a highly engaged congregation, a high level of giving and a talented, dedicated staff. Throughout its history Ascension has thrived and pressed forward in its mission: to enable ourselves and others to experience God in Christ, to seek and serve Him in others, to grow towards Christ and to proclaim Him to the world.
---
---
Our Services
Service Times
Sunday
07:45am

-

An early service of Holy Eucharist in traditional language and a close setting.

09:00am

-

A family oriented service of Holy Eucharist with contemporary language and kid friendly service elements.

11:15am

-

A traditional choral service of Holy Eucharist in contemporary language.
---
Leadership
Andrew Morehead
Associate Music Director and Communications Coordinator
---