Denver, CO
Stapleton Church
Stapleton Church
Helping people follow Jesus
Denver, CO
Who We Are
Stapleton Church is all about helping people follow Jesus. We are passionate about Jesus and passionate about you. That's why we want to see your life transformed by the good news of Jesus.
Stapleton Church is located on the south end of Denver's Stapleton neighborhood. We meet in Hangar 61, a historic aircraft hangar we purchased and remodeled.
About Us
Our Services
Leadership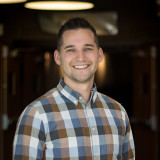 Matt Wolf
Lead Pastor
Matt started as our Lead Pastor on Easter Sunday 2017. He is thrilled to have the opportunity to lead Stapleton Church, preach God's Word and help people follow Jesus. He, his wife Melissa and daughter McKinley moved to Denver from Nebraska, where Matt served as a pastor. Matt grew up in Colorado Springs, and Melissa in Moab, Utah. They met at Colorado State University, where they both received their bachelor's degrees. Matt also holds a Master of Divinity from Denver Seminary and is currently working on a Doctor of Ministry from Talbot School of Theology. He loves spending time with his wife and daughter on walks and hikes and simply enjoying life together. Matt also enjoys reading, listening to podcasts and following the Broncos and the NBA.