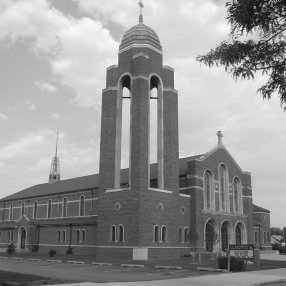 Who We Are
A Catholic Church with a faithfilled purpose and message!
A welcoming, diversed community of people in the northeast part of Detroit. Come visit us and become a member of a vibrant faith filled Church. Among other things, the Church has a very strong out-reach program to the community, making available to our neighbors many services.
The Church merged with Our Lady of Good Counsel Parish in June of 2011. We are now a new combined Church.
---
---
Our Services
Service Times
Sunday
10:30am

-

Catholic Mass with choir (everyother week) and donut social following the service.
Saturday
04:00pm

-

Catholic Mass. A earlier time for older members.
What to Expect
---
Rev. Robert Kotlarz
Rev. Robert Kotlarz has been a priest since 1968. All his ministry has been to the city of Detroit Churches. Fr. Bob, as he is called, has been the pastor of this Church since 2002. His education is very broad. He studied in Rome, Italy where is he was ordianed a priest. Fr. Bob taught at the Seminary in Detroit for several years. He was also the secretary to Cardinal John Dearden, Archbishop of Detroit early in his ministry. He brings to our Church a very vibrant message of love and diversity to a neighborhood in need of much support and direction.
---
This church allows you the opportunity to grow in Faith and works .the community can become your second family in a short time....want to get involved in parish life??? This is the place..