St. Paul's Episcopal Church
St. Paul's Episcopal Church
St. Paul's welcomes all to celebrate God's love through faith and action.
Williamsville, NY
Who We Are
Episcopal worship combines ancient worship with modern language. Time honored music with teaching and preaching for today.
At our 8 o'clock service you will find a meditative service and a welcoming small community.
At our 10 o'clock service you will find a high energy group with children coming and going and people of all ages joining in prayer and worship
About Us
Our Services
Leadership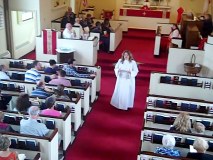 Vicki Zust
I've been at St. Paul's since 2009. I came here from Ohio (GO BUCKS!) after serving in Cincinnati, Newark, Ohio and Bexley, Ohio I came to Buffalo because of St. Paul's and it is a joy to be a part of a community that comes together to pray, study, help others, and, of course, eat!