St Michael Evangelical Lutheran Church
St Michael Evangelical Lutheran Church
Who We Are
Everything We Do
Everyone We Meet
Everywhere We Go
We Are Christ's Hands and Feet
This is St Michael's Mission Statement, a guide in our understanding of who we are as God's people and how we live out our partnership with God. We are to be the hands, feet, voice and eyes of Christ. Our community of Christ is encouraged to go forth from worship and prayer to serve as Christ served, that is, to those on the margins of society, to the voiceless, to the hurting.
We try to have a balance between what we do for our congregation to enhance community and nurture faith and what we do beyond our congregation.
All people are made in the image of God, and all God's children are welcome at St. Michael exactly as they are: no matter your race, gender expression, socioeconomic background, sexual orientation or previous faith experiences.
From Labor Day through Memorial Day, our worship services are at 8:30 and 10:45 am with Sunday School and adult bible study at 9:40. For the rest of the year, we meet at 8:30 and 10:00am with no Sunday School during the summer.
About Us
Our Services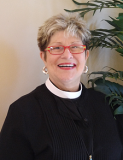 Mary Nesmith
Interim Pastor
Interim Pastor Mary Nesmith began her ministry at St. Michael in November 2015. God has blessed us with an interim pastor who is a gifted preacher and teacher. Through her stories, humor and illustrations, the Good News of Jesus Christ touches the listener's heart with a message that makes faith relevant to everyday life. Her other pastoral gifts are in preaching, teaching, pastoral care, worship leadership, and a "whacky" sense of humor. Rev. Mary Nesmith began her interim ministry at St. Michael in November 2015. Prior to her call to interim ministry at St. Michael, she faithfully served as a Hospice chaplain in West Palm Beach. A 1987 graduate of the Lutheran School of Theology in Chicago, her previous calls were in Belgium; Iowa; Georgia; Alabama; and Boynton Beach, Florida. Pastor Nesmith will be guiding us as we call a new, full-time pastor to St. Michael.