Who We Are
St. Lydia's is a Dinner Church! We gather every Sunday and Monday night to cook and share a sacred meal, just as the first followers of Jesus did. We eat, explore scripture, offer prayers, and sing together.
We are a progressive congregation in New York City, located in Gowanus. Our worship is rooted in the patterns of the Early Church, and we are tied to the Lutheran and Episcopal traditions. All are welcome at the table.
We also host a co-working space during the work week, where freelancers or anyone who would normally work from home or a coffee shop can work side by side in community.
St. Lydia's is an experiment in what the Church might be when the meal we share is at the center of our common life. We're building this together—come and join us!
About Us
Our Services
Leadership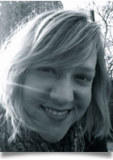 Emily Scott
Emily Scott imagines her ministry as "creating space for moments of transcendence through ritual." At St. Lydia's, these moments take place around a common table where God comes and finds us. Trained as a liturgist and musician at Yale Divinity School and the Institute of Sacred Music, Emily has followed a particular interest in the intersection of worship and the arts. She founded St. Lydia's in collaboration with colleague Rachel Pollak and congregants in 2009, and was ordained as a pastor in the Evangelical Lutheran Church in America in 2012.