Indianapolis, IN
St. Luke's Synodal Catholic Church
St. Luke's Synodal Catholic Church
It's about relationships not rules!
Indianapolis, IN
Who We Are
St. Luke's is an Independent Catholic Church in full communion with the Diocese of Washington of Communion of Synodal Catholic Churches . We celebrate Mass in the sanctuary of Faith United Church of Christ in Indianapolis, IN
Our faith community is open and affirming and we serve all at God's table. Our worship is rich in tradition yet modern enough to allow people to question their beliefs and contemplate honest answers. We believe that a church should be a community!
If you are looking for a church home we invite you to join us for Mass at 6pm on Sunday evening. No matter where you are at in your spiritual journey you have a home with us here at St. Luke's
About Us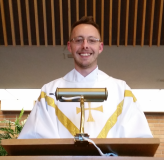 Fr. Ryan Cox
Parish Priest
Fr. Ryan has been the Pastor of St. Luke's for 3 years. He believes in being an inclusive faith community that welcomes all people to God's Holy Table!