Elizabeth, NJ, NJ
Iglesia Católica Carismática del Divino Niño
Iglesia Católica Carismática del Divino Niño
(Anglican Church in North America) Missionary Diocese of All Saints
Elizabeth, NJ, NJ
Who We Are
Damos la bienvenida a todos aquellos(as) que quieran compartir con nosotros el amor de Dios a través de su amado Hijo Jesucristo, nuestro Senor y Salvador. Esta pagina ha sido creado para la edificación del pueblo de Dios, para aquellos que están buscando paz y refrigerio espiritual para sus vidas lastimadas, humilladas, marginadas y rechazadas por alguna otra denominación religiosa y/o por a sociedad en la cual vivimos. Sientase en la libertad de compartir con nosotros sus tristezas y alegrías, sus triunfos y fracasos, pero sobretodo, sus motivos de oración. Los esperamos para así orar, llorar, reír y compartir la multiforme gracia de Dios. Bendiciones!!!
About Us
Our Services
Leadership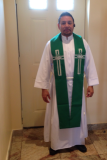 WILLIAM ALVAREZ
RECTOR/PRIEST
Sirviendo al Señor desde el año 1982 con 33 años de experiencia en el ministerio. Cursó estudios teológicos en la prestigiosa Universidad de Candler School of Theology en Dallas, TX., (SMU). Graduado con los mas altos honores de su clase. Tiene un bachillerato en Organizational Management del Nyack College, Nyack, NY. Ha trabajado como ministro en diferentes estados como Atlanta, GA., Washington State, Nueva York y recientemente en Nueva Jersey.
Es un vividor mal ejemplo como Cristiano debe estar preso se nos robo el dinero de la iglesia y no volvio y vive con un hombre de esposo que verguenza me das Willo.

Este señor William se llama deberia estar preso, tiene que dar cuenta del dinero que llevo del pueblo, el se robo el dinero junto a otro señor que trabajaba y vivia con el Luis, deben denunciarlos por ladrones.

La vida de este señor supuesto sacerdote catolico y su vida es un mal ejemplo, se roba el dinero de una comunidad y se casa con un mismo hombre y dice el ser espiritual, que ejemplo puede ser para nadie.

Este señor no es un ejemplo para nada es una persona que vive doble vida y no es un ejemplo para nadie, se robo el dinero de la iglesia y vive su vida casado con un hombre, que ejemplo puede ser este señor.

This church is not Roman Catholic but Anglican. Worship style is High Church and it does have many traditional Catholic practices but is Anglican. Please change denomination description to ACNA-Anglican Church of North America.