St. Aidan's Anglican Church
Helping others become fully alive in Christ
Kansas City, MO
Who We Are
We're a collective of urban and suburban teachers, artists, musicians, lawyers, janitors, contractors, nurses, scientists, writers, software programmers, some unemployed, self-employed and entrepreneurs. Our common bond and love is Jesus Christ.
There are no resident spiritual giants, just people who share the struggles of living in Christ amid a broken world. We're all participating in a gracious God who mends and sends us out to live more fully alive in Jesus.
Before coming to St. Aidan's, most of us were not Anglicans. We all found ourselves seeking deeper historical roots in Ancient Christian faith. We believe our post-modern+ world requires such roots, embodied in the person of Jesus, the way, the truth and the life. Moreover, to be enfolded into the life of our community, there's no requirement to officially become an Anglican. We are first and foremost Christians. We see Anglicanism as a type of Christian but by no means superior or compulsory.
Our community is rooted in three great streams of Christianity, sacramental, missional and charismatic.
So, don't worry if you're new to liturgical worship, everything is printed in our worship booklet. We'll help guide you through the experience. Dress up or down and come celebrate with us.
On behalf of St. Aidan's,
Michael Flowers
Senior Pastor
About Us
Our Services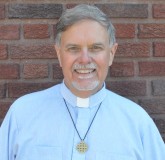 Michael Flowers
Rector
I love serving alongside a passionate congregation and leadership team!