Olathe, KS
Southwest Community Church
Southwest Community Church
opening their doors to those who are seeking a better life.
Olathe, KS
Who We Are
If your life is not what you want it to be...
If your dreams seem to be slipping away...
If your relationships need mending...
We'd like to invite you to investigate a better way...
His name is JESUS.
About Us
Our Services
Leadership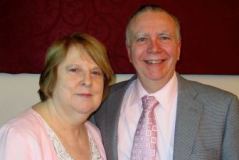 Bill & Cherril Russell
Senior Pastor