Salem Evangelical Lutheran Church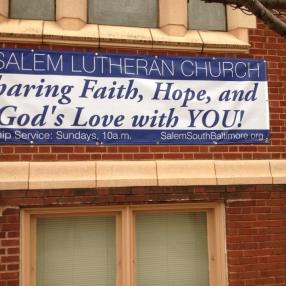 Who We Are
Sharing Faith, Hope, and God's Love with YOU!
COME WORSHIP WITH US
Thank you for visiting our page! We give thanks to God for your presence and hope that you are in good health and good spirits. Salem has been serving the people in the Riverside community for 128 years, through many and various ministries. We seek to be a "Love Thy Neighbor" Church, which to us means that we are welcome to all, radically inclusive, generous in hospitality, striving for justice and always seeking to serve the least of these. We worship every Sunday at 10am in a manner that can best be described as "traditional and awesome." The only thing we are missing at Salem is your presence and we hope you can join us and be a part of what we are doing in sharing the love of Jesus Christ with the world.
ABOUT THE SERVICE
Salem worships with what is considered to be a traditional Lutheran liturgy. If you've ever been to a Catholic, Episcopal or Methodist service, it's very similar to those. However, while we use "traditional" in a broad sense, we also do not want it to be synonymous with "stiff," "uptight" or other similar words used to describe such liturgy. Our music is consistently upbeat thanks to Marie and the Salem Singers and our children's sermons are vibrant and fun. And if you're worried about your children crying during the service...don't! Salem welcomes your beloved distractions! If you do feel the need to take your child out, you may take them down to the fellowship hall. We will soon have a nursery ready for them. And don't worry about what to wear. Bring your Sunday best or Saturday night club clothes, we'll be happy to have you either way.
---
---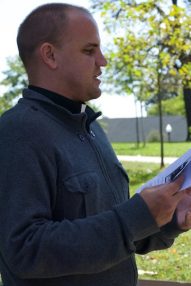 Jacob Simpson
Pastor
A Baltimore native, raised in Glen Burnie, Pastor Jake was called to serve at Salem on June 3, 2012. He has a passion for spreading the Gospel to all corners of Salem's little corner of south Baltimore. He can frequently be seen around the neighborhood or the local Starbucks in the collar and would love to stop and talk to you.
---