Corona del Mar, CA
Saint Michael & All Angels
Saint Michael & All Angels
A Christian community of the Anglican Communion
Corona del Mar, CA
Who We Are
WORSHIP: Sun: Holy Eucharist 9pam (summer hours thru Labor Day.) Tues: HE, MP alternating at 7:30am. Wed: HE with Prayers for Peace & Healing 12 noon.
We are a Christian Community of the Anglican Communion who come to hear God's word and receive and share the Lord Jesus Christ. Our purpose is to have Christ live in us in order that in Christ we may live faithful and productive Christian lives. Our commitment to the Gospel is evangelical, our liturgical tradition catholic, our theology orthodox but open to thought, reflection and spiritual endeavor. We care about the world and strive to serve Christ in it.
Our regular Sunday morning worship services are at 8am and 10am. The adult Christian education hour is in the library (in the parish center) at 9am.
All are welcome!
About Us
Leadership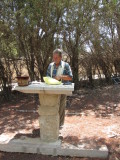 Peter Haynes
Our rector since 1987